All UK networks | Resellers Voice & High-Speed Data
This HiBoost Hi13-3SL triband signal booster will cover three frequencies in the 2G and 3G frequency range. It will cover all networks and an indoor area of 500-1000 Sqm2. HiBoost signal boosters are guaranteed to improve internet data and deliver clearer calls. A new generation smart booster with upgraded features as never seen before. Designed to improve mobile signal coverage for all UK Networks that uses 900 MHz/800MHz and 2100MHz for 2G/3G and 4G voice. This device will improve signal for separate rooms, small apartment, studio, office, garage, basement, etc.
Key Features
• Supports EGSM900, DCS800 and WCDMA 2100 MHz (2G, 3G, and 4G)
• Bluetooth and Wi-Fi modules
• Setup and monitoring via the mobile app
• Stylish and aesthetic design, strong and durable construction
• Self-Oscillation protection
• Automatic and Manual gain controls
• LCD- display (real-time)
• Good heat dissipation
• Built-in indoor antenna
• Adhering to ETSI and 3GPP standards
Inbuilt-Indoors Antenna
HiBoost Hi13-3SL smart booster is very easy to install and use as it comes with a built-in indoor antenna. No need to install an indoor antenna separately the indoor antenna is enough to boost and improve signal in coverage areas up to 500 Sqm2. This feature will help save installation time for the device, prevent worrying about suspending antenna on your ceiling and the booster can be placed anywhere in the house with the same effective result.
Remote Control Feature
Another unbeatable feature is the Smart Link that allows users to control their Boosters remotely via their mobile phone and device. Users can set up and monitor their booster anytime from anywhere, it also allows users to check for signal level and can be used to check outdoor antenna positioning. you can also share your mobile booster with an engineer.
How Your Booster Works   
A mobile phone signal booster is supplied with all the accessories you require for easy set-up and use. It is basically a plug and play device and which can be done without employing any professional installer.
The Booster and the indoor antenna should be mounted inside the intended coverage area. Link the antenna and the booster with the coaxial cable supplied with the system.
Plug in the mobile booster to a power source and start experiencing a no drop calls and high-speed data download. The device will auto-adjusts the best parameters for your area in 30 seconds after the start.
IMPORTANT NOTE:  Please call our Technical Support for advice if you are installing one of our pro series boosters, multiple rooms connections and if you  need further clarifications on any or all of our products
What's Included In the Box
• HiBoost Hi13-3SL Triband mobile signal booster with a built-in indoor antenna
• HiBoost 200 low loss cable 50ft/15.2 m
• 12V / 3A, AC /DC power supply
• Outdoor Wideband directional antenna
Certifications

All our products are officially certified for compliance with the international and European safety, quality, and health regulations in the accredited test laboratories. See certs below: CE, RoHs, and ISO 9001-2008.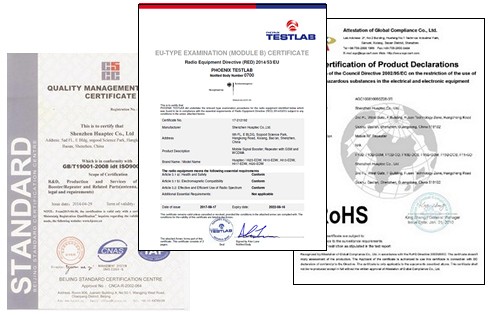 | | |
| --- | --- |
| Coverage Area | 1000 m² |
| Application | Small Home&Office |
| Network Type | Calls, 3G / UMTS, 4G / LTE |
| Frequency | 900 MHz (GSM/EGSM), 1800 MHz (DCS/LTE), 2100 MHz (3G/WCDMA) |
| Frequency Range | 880~915MHz (Uplink) 925~960MHz (Downlink), 1710~1785MHz (Uplink) 1805~1880MHz (Downlink), 1920~1980MHz (Uplink) 2110~2170MHz (Downlink) |
| Number Of Bands | Tri-Band |
| Max. Gain | 60dB (Uplink) – 65dB (Downlink) |
| MGC (Step Attenuation) | ≥ 31dB / 1 dB step, dip switch control |
| Intelligent AGC (ALC / ISO) | ≥42 dB / ≥42 dB |
| Gain Flatness | Typical ≤5 dB (P-P) |
| | |
| Noise Figure @ Max. System Gain | Typical ≤5 dB |
| V.S.W.R | Typical ≤2 |
| Group Delay | ≤ 1 μs |
| Frequency Stability | ≤0.01 ppm |
| Power Supply | Input AC90~264V.50/60Hz, Output DC 12V/3A |
| Power Consumption | ≤12W |
| Input & Output Impedance | 50 ohm |
| LCD Display | Frequency, Gain, Output Power, ALC, ISO, etc. |
| Indication LEDs | No |
| I /O Port Type | N-Female |
| Dimensions | 153 x 246 x 36mm/ 6 x 9.7 x 1.4inch |
| Booster Weight | 1.8 kg |
| Booster Weight with KIT | 5 kg |
| Operating Temperature | -10ºC~+55ºC |
| Storage Temperature | -10ºC~+80ºC |
| Relative Humidity | 5% – 95% |
| Barometric Pressure | 55 kPa -106 kPa |
| Environment Conditions | IP40 |