4G LITE800 | Vodafone | O2 | Three Voice & Text
4G signal is originally designed to provide faster connection, clear and uninterrupted calls but in most cases, we don't always get this. Due to various factors that prevent the signal from traveling to a certain location.  But with our Hi13-LTE800 your worries are over. The Hi13-LTE800 is designed to boost and improve signal for the 800MHz range (4G voice) for all UK networks. It will cover an indoor area of 500 Sqm2 and can support up to 20 simultaneous users with crisp calls and great signal totally eradicating drop calls.
The booster is packed with a 3-year warranty and if you are not satisfied with the performance, we have thrown in a 15 days Money back warranty. give us a call and we will be glad to help with a replacement booster or refund. but we can assure you it won't get to that as our booster is tested and approved to durable with high performance.
The Hi13-LTE800 is built with many unique features which include.
Key Features
• Supports 4G LTE 800 MHz
• Low power consumption
• Wide power supply range
• Self-Oscillation protection
• Automatic and Manual gain controls
• LCD- display (real-time)
• High integration
• Compact and light
• Good heat dissipation for long time operation
• Adhering to ETSI and 3GPP standards
Smart LCD Display
 Real-Time Monitoring Display
Displays gain, frequency, and output power to enable you to monitor and control the current performance status of the booster.
Smart Troubleshooting
Display Mal-function code on the screen that lets you (ALC or ISO) giving you an insight of what is to be adjusted or repair.
Assist in locating a perfect position for the outdoor antenna, as the booster requires at least 1-2 outdoor signals to boost and amplify inside.
WORKING PROCESS               USER MANUAL
A mobile phone signal booster is supplied with all the accessories you require for set up and use. It is basically a plug and play device that can be done without employing any professional installer.
The Booster and the indoor antenna should be mounted inside the intended coverage area. Link the antenna and the booster with the coaxial cable supplied with the system.
Plug in the mobile booster to a power source and start experiencing a no drop calls and high-speed data download. The device will auto-adjusts the best parameters for your area in 30 seconds after the start.
IMPORTANT NOTE:  Please contact our Technical Support Team for advice if you are installing one of our pro Boosters, multiple rooms connections and or need further clarifications on any or all of our products.
What's Included In The Box
• 4G LTE mobile signal booster
• Outdoor wideband directional antenna
• Indoor Whip antenna
• HiBoost 200 low loss cable 50ft/15.2 m
• 12V / 3A, AC /DC power supply
Certifications
All our Boosters are certified under the UK and EU safety Laws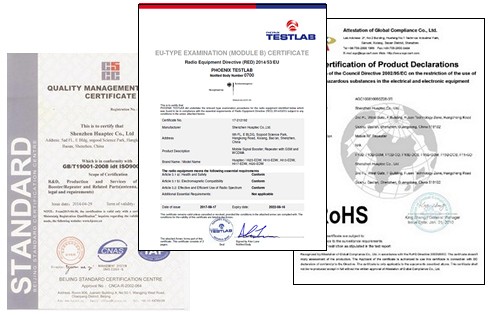 | | |
| --- | --- |
| Coverage Area | 500 m² |
| Application | Small Home & Office |
| Network Type | 4G / LTE |
| Frequency | 800 MHz (4G/LTE) |
| Frequency Range | 832~862MHz (Uplink) 791~821MHz (Downlink) |
| Number Of Bands | SINGLE BAND |
| Max. Gain | 60dB (Uplink) – 65dB (Downlink) |
| MGC (Step Attenuation) | ≥ 31dB / 1 dB step, dip switch control |
| Intelligent AGC (ALC / ISO) | ≥42 dB / ≥42 dB |
| Gain Flatness | Typical ≤5 dB (P-P) |
| Noise Figure @ Max. System Gain | Typical ≤5 dB |
| V.S.W.R | Typical ≤2 |
| Group Delay | ≤ 1 μs |
| Frequency Stability | ≤0.01 ppm |
| Power Supply | Input AC90~264V.50/60Hz, Output DC 5V/3A |
| Power Consumption | ≤5W |
| Input & Output Impedance | 50 ohm |
| LCD Display | Frequency, Gain, Output Power, ALC, ISO, etc. |
| Indication LEDs | No |
| I /O Port Type | N-Female |
| Dimensions | 120*155*34mm / 4.7*6.1*1.3 inch |
| Booster Weight | 0.75 Kg |
| Booster Weight with KIT | 3.15 kg |
| Operating Temperature | -10ºC~+55ºC |
| Storage Temperature | -10ºC~+80ºC |
| Relative Humidity | 5% – 95% |
| Barometric Pressure | 55 kPa -106 kPa |
| Environment Conditions | IP40 |